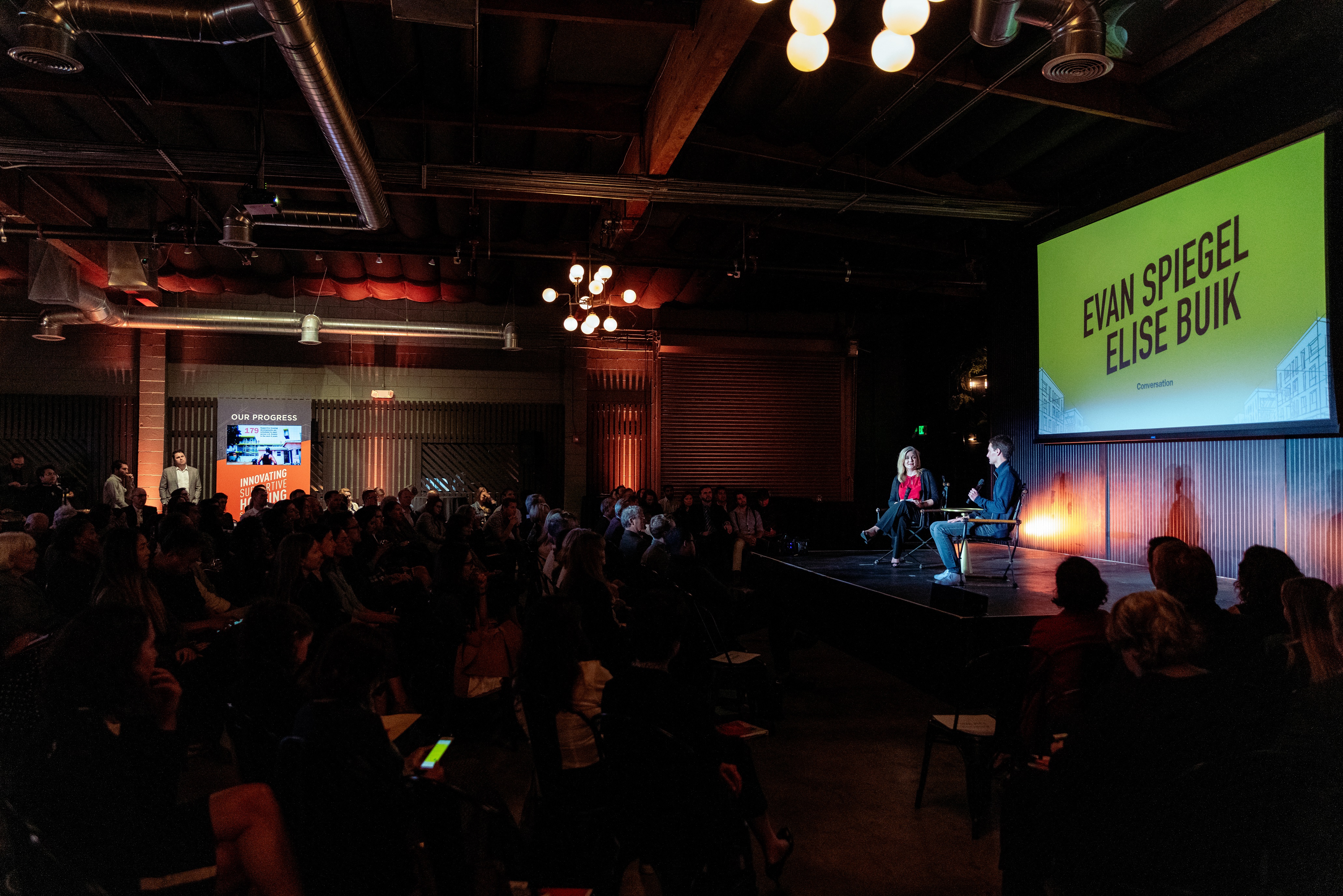 Last night we heard three individuals share how they've experienced the homelessness crisis in Los Angeles County...
Evan Spiegel, co-founder and president of Snap Inc., recalled his experiences growing up in L.A. He recalled homelessness being a part of his life ever since he could remember, back when he began volunteering as a kid, serving dinners at Thanksgiving.
Sami Abdelatif, director of Housing Development for Brilliant Corners, shared his appreciation for the safety and security that a home provides when fostering two teenagers from different families: he observed one who was more resilient coming from a stable home, and the other, without that same stability, who was struggling.
When reflecting on housing issues, Cristian Ahumada, executive director, Clifford Beers Housing, likened housing construction to his experience of being a practitioner of martial arts, which defines efficiency as utilizing as little energy as possible in the fastest time to automate a set of complex movements.
The impact of homelessness on these three individuals was so significant that it paved a new path in their lives — to be passionate supporters of discovering out-of-the-toolbox solutions to construct more low-cost, high-quality homes to end homelessness in Los Angeles County.
Last night an eclectic group of private philanthropic funders, leading California business executives, community service providers, supporters and nonprofit workers gathered for United Way of Greater Los Angeles' Innovating Supportive Housing Showcase in Culver City to hear updates from the winners of the Accelerating Permanent Supportive Housing competition. Different though they may be, they all had a shared goal to end homelessness in Los Angeles County.
What became apparent to the majority of the over 250 attendees was the momentum, vibrancy, and a true sense of urgency that was palpable in the room during the presentations. But what is maybe even more significant, was the energized crowd who stayed in the room long after the event was over, eager to continue the dialogue about how we can work together to end homelessness in Los Angeles County.
While some of those in attendance weren't directly innovating a new construction process to end homelessness, many expressed an interest in being involved in the process, asking several of the speakers how they could volunteer with housing efforts.
Event emcee, Chris Ko managing director, Homelessness and Strategic Initiatives, stated at the end of the event,
A lot of times, especially in America, we think of the great cowboy warrior going off and innovating by himself. Actually, innovation is a deeply collective activity.
And the innovation, sparked by the award winners, was beginning to spread further.
While the work to solve our homelessness crisis is tedious and it can be complex, the 16 winners of the competition have many of the answers. Click here to learn more about the competition and solutions.
To end homelessness, put on your innovative "construction hat" and find your crew!
When we share time and space together, powerful, innovative things can happen.

It became very clear that no matter what we do, it's going to be a team effort, working together as a community...No matter where you are or what you are interested in, there is a way for you to make an impact, and I think that is something that is really exciting and powerful.
- Evan Spiegel, co-founder of CEO of Snap Inc.
Video Recap - Innovative Supportive Housing to End Homelessness Showcase and Competition 2019

The evening's speakers have a number of ways you can get involved in this movement and add to the momentum of our progress to build supportive housing. Here are just a few. Join us now to:
Sign up at 

EveryoneInLA.org

, powered by United Way, and participate in a number of community-building activities including local events such as the

Stories from the Frontline

series.

Consider building an

Accessory Dwelling Unit

or ADU. If you are a homeowner with just a little bit of equity you can directly provide housing solutions in your own backyard.

Help to donate land, or find land donors.

In the banking industry? Help to secure competitive loan products.

Continue to be open to new and efficient ideas for supportive housing construction.
Interested in more information on supportive housing? Check this out.
For further information, visit HomeforGoodLA.org and EveryoneInLA.org.
_______
Wells Fargo sponsored this event and additional key competition funders include the California Community Foundation, Conrad N. Hilton Foundation, Spiegel Family Fund, Weingart Foundation and Wells Fargo.
Event speakers include the 2019 APSH contest winners: Becky Dennison, executive director, Venice Community Housing Corporation; Tom De Simone, president and CEO, Genesis LA; Cristian Ahumada, executive director, Clifford Beers Housing; and Sami Abdelatif, director of housing development, Brilliant Corners. Other speakers during the evening include United Way of Greater Los Angeles' Elise Buik, president and CEO and Chris Ko, managing director, Homelessness and Strategic Initiatives and spoken word poet Michael Nelder.
---