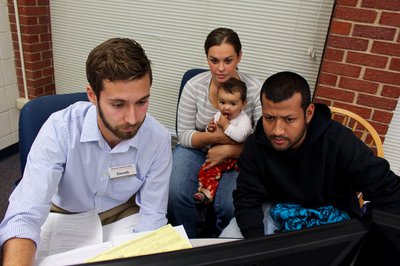 United Way of Greater Los Angeles is proud to take part in the Earned Income Tax Credit (EITC) and Volunteer Income Tax Assistance (VITA) programs once again.
The EITC and VITA campaigns, powered by City National Bank, assists qualified low- and moderate-income families with refund filing and free tax preparation so that they can keep more of the money they earn.
As the largest anti-poverty program for working families, EITC brings billions of dollars in refunds to qualified taxpayers nationwide, helping to subsidize family income and further drive the local economy.
VITA volunteer training sessions at United Way of Greater Los Angeles are in full swing to help with the tax prep. Volunteers have been trained on how to provide information about special tax credits such as the Federal EITC, Cal EITC, and Child Tax Credit (CTC). All volunteers are required to become IRS certified following their training sessions.
"Taxes can sometimes be a headache and frankly just intimidating" said volunteer Daniel LaBrune. "That's why I enjoyed this opportunity because I could learn about taxes for myself and also help make a difference for local families."
Once trained, volunteers then help at the tax preparation events at United Way nonprofit partner sites across Los Angeles County.
"Last year was the first time that I filed my taxes through the VITA program, and I loved my experience," said custodial worker Lorena Rodriguez. "The volunteer that helped me complete my taxes was really helpful and kind and helped me receive a refund that matched the amount that I would receive if I were to pay my usual tax filer."
Rodriguez learned about the program when she was participating in citizenship classes and has since told other family members and colleagues about the benefits of the program.
"At first when I heard that the services were free, I was a bit scared because I felt that it was too good to be true," she said. "I decided to take a chance and to file my taxes in the VITA site and now I am happy that I filled my taxes through the VITA program."
To learn about the free services, click here.
---